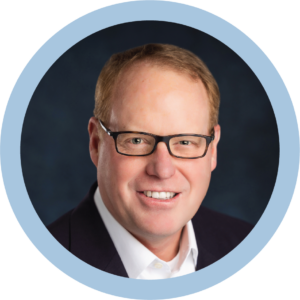 We are thrilled to get more personal with Arcadia's Chief Operating Officer, Andy Janson. Andy will play a critical role in building our Arcadia's processes and culture across the entire organization. Get to know how he thinks about hiring and building a team that will power Arcadia's success.
Q: How are you setting up Arcadia Cold to be different from other 3PL groups?
AJ: We are putting a priority on hiring and developing the best people we can find. By putting a priority on building the best team at Arcadia, that work will translate into outstanding 'customer service and care'.
Through my many years of experience in the cold storage industry, working with a variety of customers, I have learned that every customer is unique and must be treated as such. What differentiates how Arcadia does business is that we are eager to invest the time learning about our customers' business and what drives their success. By understanding our customers' distinct needs, we will drive value for them. Arcadia Cold will benefit from our customers' success.
Q: What type of people are you looking to work with? How important is hiring for Arcadia Cold?
AJ: Arcadia Cold is looking for a mix of team members with experience and those new to the industry. We are confident in our ability to train and develop Arcadia team members. The main attributes of Arcadia people will be the following: People that want to win. People that want to work as a team. People that want to learn, grow and serve our customers.
Q: How do you recruit in a competitive environment?
AJ: Arcadia Cold has a great "value proposition" for potential Arcadia team members. We have a management team that puts a priority on people, building a great culture, and developing opportunities for growth. We are going to be very selective as we build out the Arcadia Team.
What I mean about being selective is looking for the "Arcadia Values" in everyone we speak with: Community. Integrity, Accountability, Impact, Humility, Transparency.
We are a start up and I think people have a hunger to be a part of something new and innovative. Our ability to disrupt the industry with a customer focused model is dependent on every team member feeling like they can and do make an impact. We are setting up a culture where their voice and actions matter.
Our "greenfield strategy" of new facilities provides our employees a very safe place to work and the best tools and equipment available in the industry.
Q: Final question – how did you get started in the cold storage industry?
AJ: I actually began my career in college working a summer job for a family owned grocery chain in St. Louis MO. I was an order selector in the produce warehouse, working the night shift for two years. Upon college graduation, I was fortunate to join Schnuck Markets as an assistant supervisor on the night shift of the frozen food distribution center. Schnuck Markets eventually outgrew their freezer DC and contracted with a cold storage company in the St. Louis region. I was responsible for the contract and service level of the cold storage for the Schuck's stores. Long story short, I was asked to join the cold storage company,Gateway Refrigerated Warehouses.
Gateway was a member of the Global Cold Chain Alliance. This affiliation helped me develop in the industry and network with other 3PL cold storage operators and suppliers. One of the relationships I forged was with Hanson Logistics. I eventually moved to Southwest Michigan to join Hanson Logistics. I was honored to lead the Hanson Team as President for 13 of my 15 years. Working with a regional family business gave me the opportunity to wear a lot of hats and maintain a great entrepreneurial spirit.